Introduction
I do 3D animation for tv commercials, museums etc.. as a result i have friends and relatives regularly ask me to help with logo design and other graphic related stuff. I'm not good at making those types of graphics. But over the years i have built up lots of knowledge about starting small businesses and handling the graphic related aspects of them. So here i will summarize what is a good way to deal with starting a small Business. logo's, business cards, websites, hosting etc…
Remember you're starting a business because there is a problem that you know how to fix and are probably good or better than average at fixing that problem. If not, you should reconsider your business 🙂 So if the problem you are trying to fix isn't designing logos or websites, let someone who is good at fixing those problems fix them for you.
Throughout this article the links are referral links, so when you click them and then buy something I get a bit of money. If you don't want that to happen, just plug in the url's manually into your browser 🙂 if you google the same sites, then google will get the small amounts of money.
LOGO

So let's start with Logo's. Don't design it yourself. Don't get your cousin/nephew/relative to design your logo. At least get them to read this article first 🙂 Most likely they are going to do a poor job, and your business will suffer.
With logos there are 2 reactions you can get from the public:
"Eugh that's ugly"


.

They don't notice it, but with enough impressions they associate it with your brand.
.

No one sees a logo and goes: "oh my god! What an amazing logo let's do business with these people!!!"
But many will see a bad logo and choose not to do business with a company. So all you have to do is avoid reaction one. Notice most big brands have very simple unimpressive logos. There is nothing amazingly creative about them. They are just well balanced, and nicely designed. And that's the most important thing.
So go to //graphicriver.net/category/logo-templates use the search and find yourself a nice logo. Then ask your cousin/nephew to change the text and the colors to fit your needs and get a result you are happy with.
if you are really strapped for cash, there are some free places to search too.
Freepic being one of them: //www.freepik.com/index.php?goto=2&searchform=1&k=logo
But $30 is generally not a lot to pay for a logo. Be nice and support someone trying to achieve their dream through designing graphics for people like you, on the other end of that transaction there is a human who is just trying to make it in this world too. ( it's good for your karma)
Business cards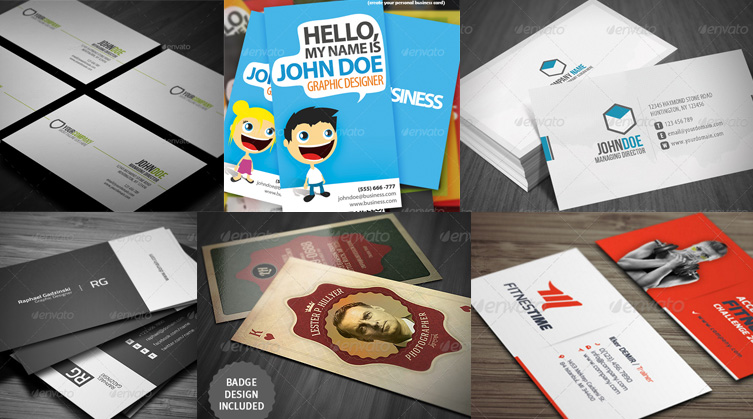 Same thing people, please don't design them yourself. Most likely, they will be ugly, and people are going to see them and go "ew.."
Now unlike Logo's, business cards make a much larger impression if you rely on getting your business face to face. If someone meets multiple people offering similar services at similar prices. A nice business card is a big deal. Sometimes even if your prices are higher, a nice business card will just reinforce the fact that you pay attention to detail. Your business partners will remember you with warmer memories after your meeting.
So firstly get a nice design from //graphicriver.net/category/print-templates/business-cards . Maybe ask one of your artistic friends or relatives for advice on which ones look more proffesional appropriate for your brand. And then don't cheap out on the printer. Cheap looking/feeling business cards get discarded in less than 12 hours. Whereas pretty attractive "valuable feeling" business cards can sit in drawers and wallets for years. I still get messages on facebook from people who found my business card that I gave to them many years ago, back when I was still getting jobs from face to face contact. Quite often they take a photo of it and include it in the message.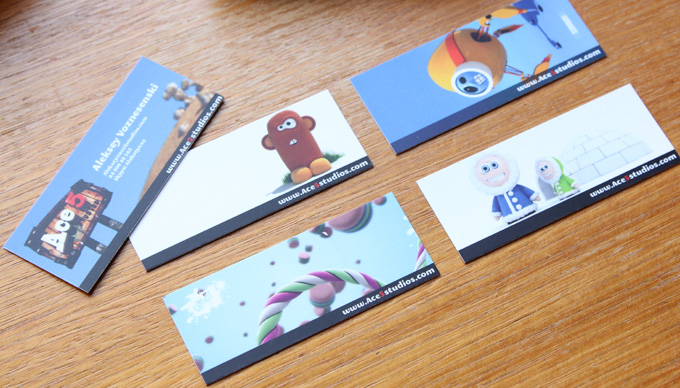 When someone is emptying their pockets after a networking event you want them to think twice before throwing out your card. Ideally you want them to feel bad about throwing out your card.
So either find a nice local printer or go to moo.com – they have a great selection and you can print a variety of them. For example, if you are a photographer you can print a different photo on each card, while keeping the name side consistent. Their quality is always top notch.

All of the points above also apply to menus for restaurants, stationaries etc.. GraphicRiver has plenty of well designed resources for very reasonable prices.

Websites

Use wordpress, get hosting from namecheap.com and templates from themeforest. I prefer enfold because it has a really nice visual layout builder. And a lot of page templates to learn from.
Namecheap.com, provide great customer service. One of the most helpful web hosts i've dealt with. And their prices are great too. The provide both Domain names and website hosting. It also has a very simple wordpress installer built into it.
WordPress is a content management systems. It is very user friendly, and contrary to popular belief its not just for blogs. My whole website runs on it.
Enfold is by far my favorite wordpress theme. It is incredibly easy to get started. There is no coding required, everything is drag and drop, and its all very customizable. It puts content front and center and then just gets out of the way. And supports woocommerce, if you decide to sell stuff through your website.
[av_video src='https://www.youtube.com/watch?v=_xV-J2eQM3A[/embed av_uid='av-a23va'] width='16' height='9′ av_uid='av-fbyqu']
A quick summary of what a good website should look like nowadays. Firstly the front page should have:
intro – preferably video, 30 – 45 seconds about what you do.

examples – what you provide

who we are. – about your team, personal info

contact us email form and email address because a lot of people don't like email forms.
Intro:
This should preferably be a video, A combination of some explanation animations and videos of people ( real videos, not stock) doing what it is your provide. Depending on your budget the amount of animations will be limited, but that's ok. Just keep it as short as possible. What problem you fix, why you are good at fixing it, and why you love doing what you do.
Examples:
Small, short examples of the companies you work with and what you did for them, or portfolio items, training programs, whatever it is you made/solve and how it helps people. 5 is a good number.
About:
This section should have photos of your team members/company founders. a bit about them where they are from who they are, what they do.. etc. So visitors understand they are dealing with actual humans and not a faceless corporations/ scam website. Maybe links to existing blogs, LinkedIn profiles, anything public facing that can back up your reputation or where people can maybe find people they know in common with you. People who can verify who you are are much more likely to do business with you.
Contact us:
A contact us email form. with very few fields. don't make like 20 fields. Just email and message body is generally enough. People hate filling out forms. Also include maybe a skype or phone number. If you live in america or are planning to have american contacts. Get yourself a google number and set it to only ring your computer. It's free and very convenient.
All of the above should be on one page.
The next parts are optional depending on what kind of business you are doing. And should have their own page.
Blog:
A blog is a great way to show website visitors that you are actually interested in what you are doing and do it not only for the money, but actually do this in your free time.
DO NOT START A BLOG IF YOU DO NOT UPDATE IT AT LEAST ONCE A MONTH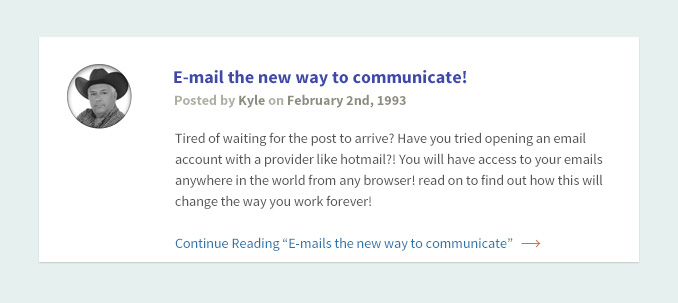 There is nothing worse than a blog that hasn't been updated in 2 years. It makes the impression that your company is dead. Also don't populate your blog with clickbait articles. It has to be about things you personally care about. You can't outsource this it has to be written by someone who is actually doing the real work. If you are thinking of hiring a blog writer for your business, just don't make a blog. It's not going to help.
If you produce visual things ( this includes food, boats, toasters, sailes anything that can produce nice photos. ) consider using tumblr or instagram instead of the built in wordpress blog. WordPress has plugins to display those beautifully on your website and you get the added benefit of being on a social network and potentially attracting new clients through those channels.
Projects:
If you think you will be able to write at length about various projects you have done ( ie you are not limited by legal agreements with clients and you are motivated enough). You should get a projects page. Only make this page public when you have at least 5 projects. Here you should write about what you did for your client, how you did it, what challenges you faced how you overcame them. So people who are interested in what you do ( because the first page captured their attention) Can go on further and explore what you do in more detail. Whether you are photographer covering events. A training company providing events for businesses. Or anything else that lends itself to this type or narrative. But remember it's a story. Someone had a problem, you had a solution they were happy with it.
Assistance
If you need help customizing your website, there are plenty of available wordpress guys who do just that. This here is a friend of mine: www.eskovares.com

Conclusion
So there you have it. A short guide to dealing with graphics and online presence of your business. In future articles i may handle Social media. But there are plenty of resources about that as it, so im not sure i can add anything valuable, but if you would like to hear from my on that, don't hesitate to leave a comment.
Here are all the links again, in one place:
Logos: //graphicriver.net/category/logo-templates
Business cards: //graphicriver.net/category/print-templates/business-cards
Printing: moo.com
Webhosting: namecheap.com
Wordpress: //wordpress.org
Enfold Theme: enfold
[av_hr class='big' height='50' shadow='no-shadow' position='center' custom_border='av-border-thin' custom_width='50px' custom_border_color=" custom_margin_top='30px' custom_margin_bottom='30px' icon_select='yes' custom_icon_color=" icon='ue808′ font='entypo-fontello' av_uid='av-pzk6′]